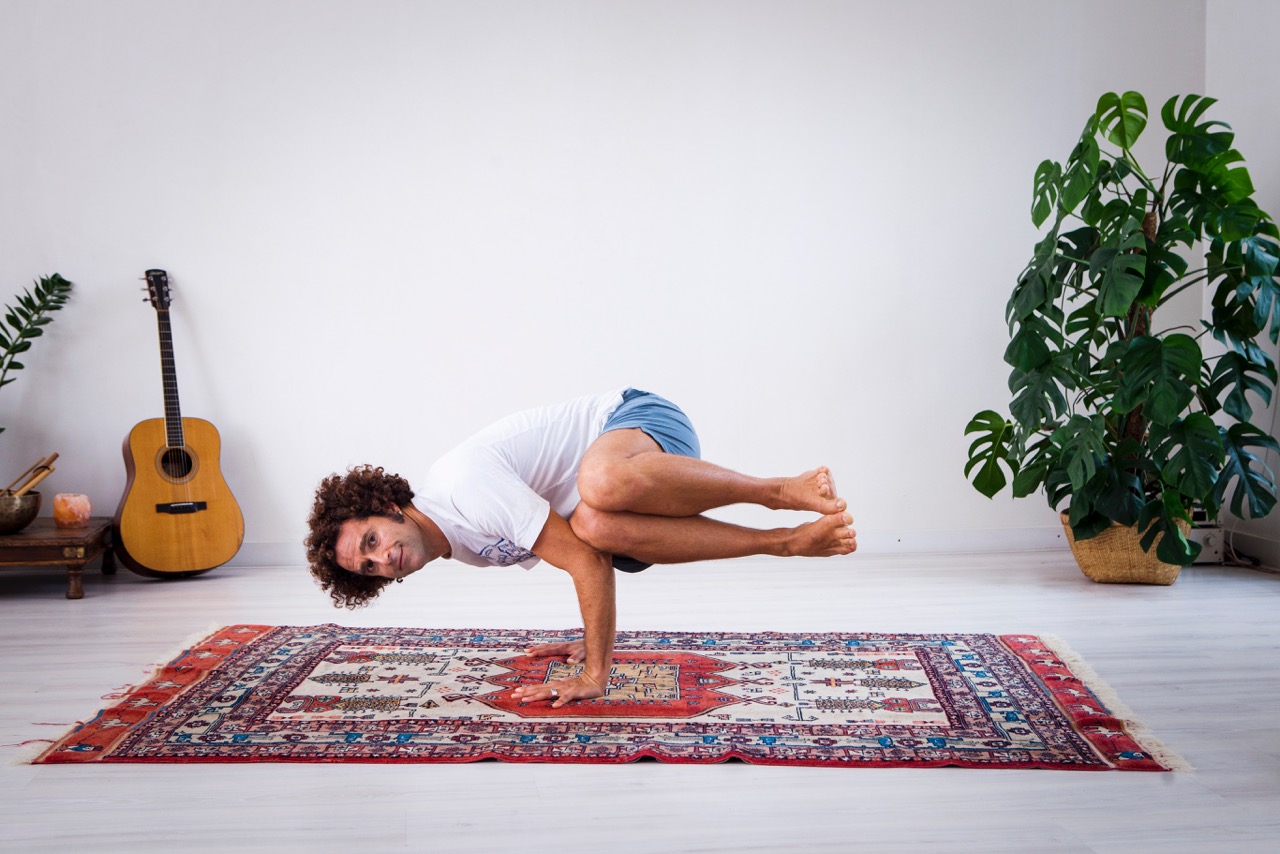 Let's Just Be Kind to One Another—Interview with David Lee Lurey
21 February 2019 Music Sanathana Vani service Yoga
---
Our life is a journey and it becomes a pleasing one when what we explore opens to an altogether new dimension of understanding and experience. Yoga and music both are phenomenal practices that could elevate a human mind to higher levels, which rise above the material or bodily needs and cater to the soul. Well, what if you could combine both? It becomes literally matchless!!
We talked to David Lee Lurey, a Yoga practitioner, teacher and a musician, who shared his insights about yoga, music and his life that revolves around these practices.
 Q1. Tell us how you got connected with Yoga?
I began Hatha Yoga in 1995 for physical health.  From there on, it was not much longer that the other doors of Yoga opened to me.  Since then, I have explored many paths of Yoga with great curiosity and joy.
Q2. How has been the experience of teaching Yoga in the past few years?
As I have 'matured,' I feel that my teaching has been more about creating experiences for people to understand themselves rather than me, the teacher, telling people what to do. I still guide poses and sequences but the attention has shifted away from me entertaining to me supporting my students to look inside. I live in Europe and European Yoga has a few clear 'branches' with a physical asana path, a very spiritual path and many blends between. I feel that I can adapt to both sides and enjoy bringing the aspects of each wherever I am.
Q3. Tell us about your music. How did you start creating it and what has been your experience?
I was raised in a Jewish family in the USA where singing was part of every holiday. I loved it from an early age and feel that had a positive impact on what I do with music now. In my teenage years, I learned to play guitar and sing and in university, I played in a few rock and roll bands! I moved to San Francisco, California in 1995 and shortly after starting my Hatha Yoga practice, I met Jai Uttal.  I remember the first kirtan I went to… it was very cliché with 'lights, angels and positive vibes" everywhere. From there on, I could transfer my ability to play guitar and sing with performance to a more devotional sense. Jai has been the biggest influence in my life for this and continues to do it.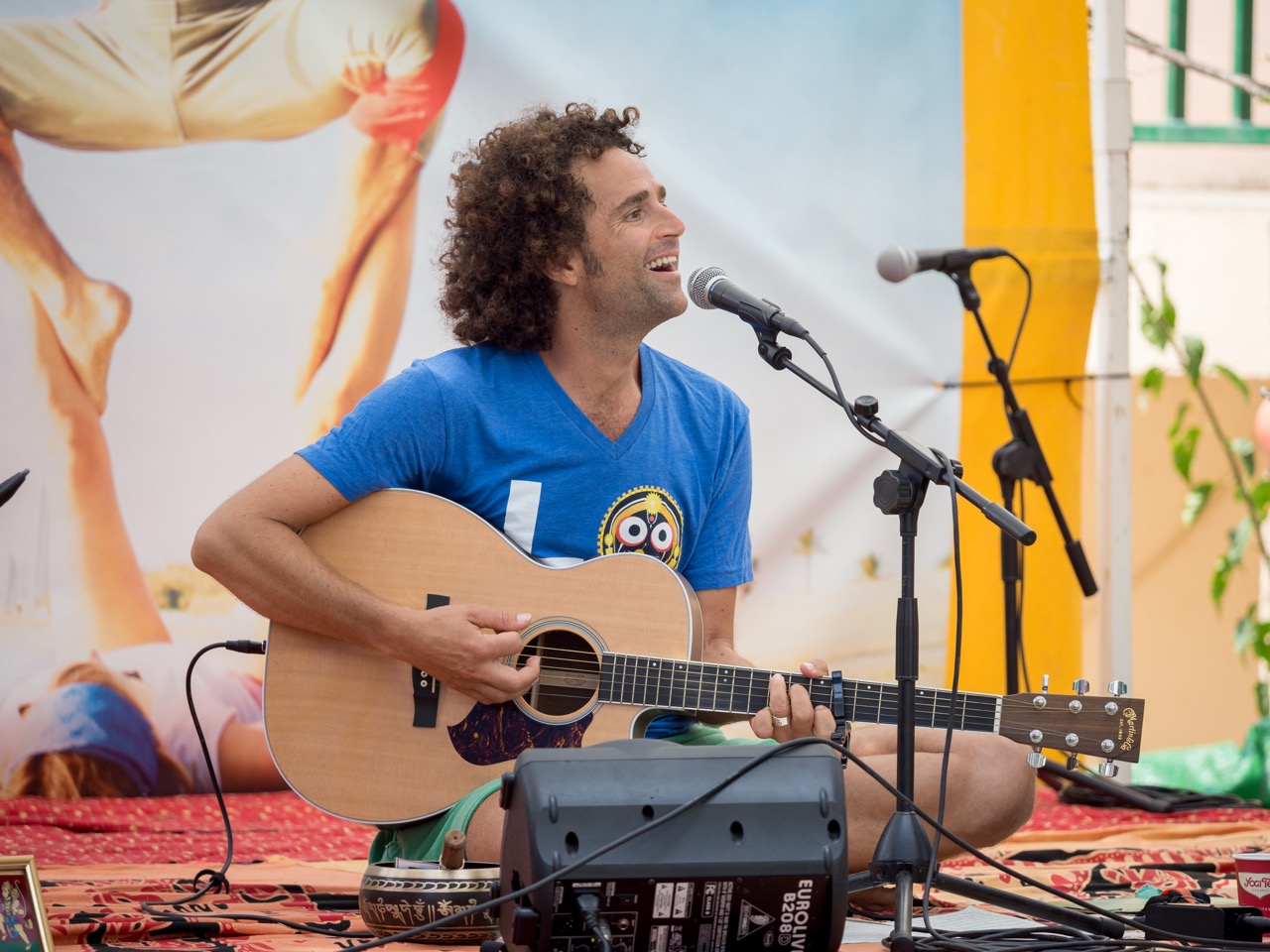 Q4. How do you feel music complements the science/art of Yoga?
The universe exists in vibration. Music, spiritual music especially, has a way to harmonize vibrational frequencies to the divine. And it also is an outlet for people to express their desires, needs, emotions and love in ways that are beyond just 'regular' music.
Q5. Share some feedback that you received from your classes? What kind of impact the participants said they felt?
My favourite feedback ever from a student: "David, coming to your class is like going to the gym, the church and the psychiatrist at the same time!"
Q6. Do you feel Yoga and music could help in destressing the modern world?
Yes, by bringing us out of our analytical minds and tuning into the frequencies of the heart. Looking beyond our own daily challenges and seeing a 'bigger picture' … and bringing JOY as a practice!
Q7. A message for our readers?
Thanks for making it this far and my latest 'catch phrase' (as of February 2019… it will surely change!): Let's just be kind to one another… it is the most spiritual thing we can do.
Interviewed by,
Vivek Kumar
---